Vidalista 20mg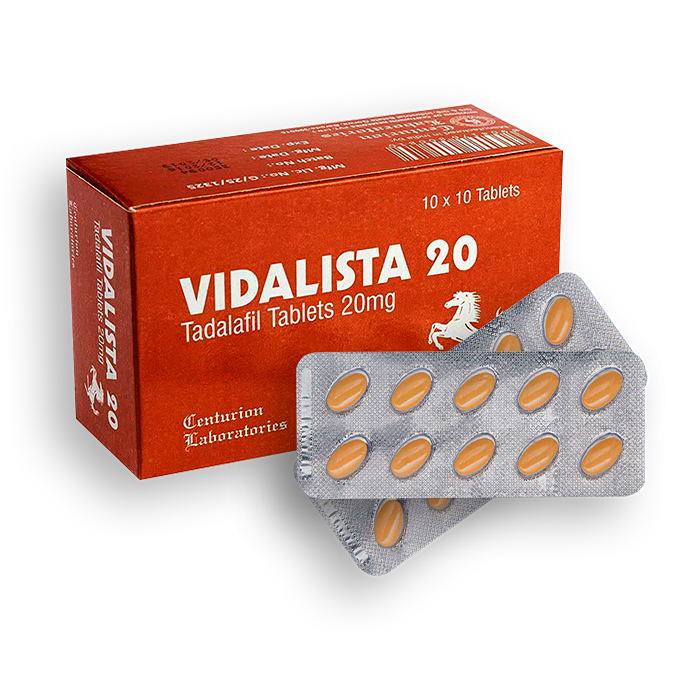 Suffering from erectile dysfunction and looking for a safe and reliable treatment? Then Vidalista 20mg is definitely an option to consider. Available for instant purchase from our online pharmacy, this medication can alleviate your problems and make your sex life great again!
Available dosage Vidalista forms and strengths

| Name | Dosage forms | Strengths |
| --- | --- | --- |
| Vidalista tablets | Tablet | 2.5mg, 5mg, 10mg, 20mg, 40mg, 60mg, 80mg |
What is Vidalista?
Vidalista is an impotence drug containing tadalafil – the active ingredient used in the most frequently prescribed ED medications of today. Vidalista is manufactured by Centurion Laboratories Pvt. Ltd., a fully CGMP-compliant pharmaceutical company headquartered in Gujarat, India.
While brand-name Cialis is only available in strengths of up to 20mg of tadalafil per pill, there exist two high-strength versions of Vidalista – 40mg and 60mg, both intended for treatment of severe erectile dysfunction. Patients with mild to moderate ED as well as first-time customers are recommended to start with the 10mg or 20mg pills, which are sufficient for the majority of people.
Vidalista 5mg is intended for daily use in patients with concomitant erectile dysfunction and benign prostatic hyperplasia. This medication both improves erection and fights the symptoms of BPH – urinary urgency, voiding problems, pelvic pain and discomfort and more.
Vidalista is available in three dosage forms – regular, sublingual and chewable tablets. The tablets are yellow, oval or drop-shaped. Chewable Vidalista, marketed as Vidalista CT, and sublingual Vidalista, or Vidalista Professional, allow for greater spontaneity in bed as these versions of the medication can be taken without water and start acting faster than the regular tablet. Both Vidalista CT and Vidalista Professional are available in 20mg strength only.
Super Vidalista
Another version of Vidalista available from our online pharmacy is Super Vidalista 80mg. This medication contains two active ingredients – 20mg of tadalafil and 60mg of dapoxetine per tablet. It is used to treat erectile dysfunction and premature ejaculation when these two conditions occur concomitantly. Studies show that men with ED are more likely to suffer from PE compared to general population, hence the need for a compound drug that would help patients both get healthy erections and last longer in bed.
author: Dr. Marian Davis