Generic Ventolin Buy Online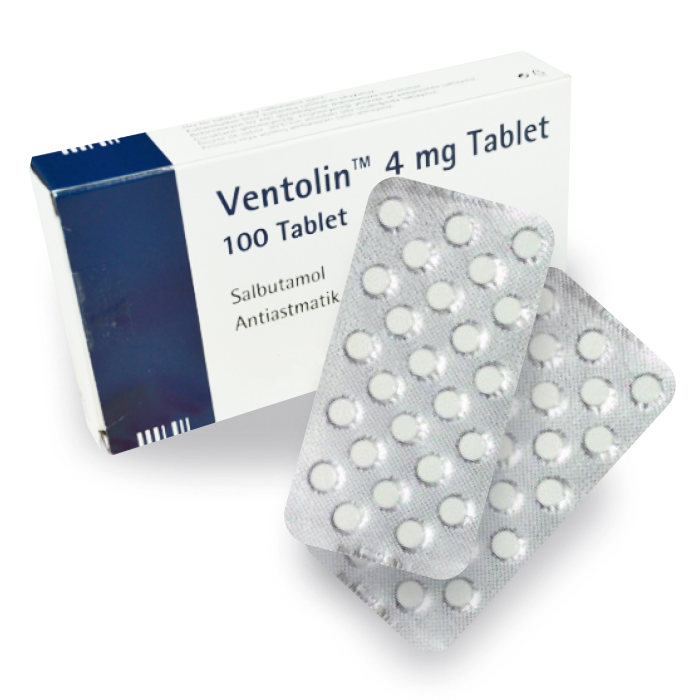 This short review features generic Ventolin, an effective medication for treating bronchospasm and reversible obstructive airway disorder. You will learn what kind of preparation Ventolin is, how to use it properly, and what precautions to consider to avoid severe side effects.
What Is Ventolin?
Generic Ventolin is a medical preparation manufactured by Cipla Limited for treating bronchospasm in patients suffering from reversible obstructive airway disorder. It is also widely used to prevent bronchospasms caused by intensive exercise.
The active ingredient is Albuterol (Salbutamol). It is a bronchodilator that helps airway muscles relax and boosts the airflow in the lungs. The preparation's brand name is Asthalin.
The drug is released in the form of tablets, dosed with 2mg per pill. The price of one tablet is $0.50. As well, tablets can be 4mg ($0.56 per pill). You can also use Ventolin Inhaler manufactured by GlaxoSmithKline Plc with the same active substance and a dose of 100 mcg, which costs $14.99.
Ventolin is a prescription medication used for treating asthma in patients from 4 years of age.
The medicinal effect of Ventolin refers to its ability to relax bronchial muscles and the muscles associated with the lungs.
How to Take Ventolin?
If you suffer from bronchospasms of any aetiology, it is necessary to have this preparation for you to reach it at any time. Ensure that it is refilled and ready for use.
The dosage of this medication depends on your health problem and its severity. After thorough consideration, only your doctor or pharmacist can decide about the incorrect doses.
The drug is available in inhalers, sprays, and syrups, and each of these forms better suits a specific type of health condition. If it is prescribed for treating severe asthma symptoms, you can use the intra-venous infusion solutions of 5 mL of the preparation for 500 mL of Sodium Chloride and Dextrose. The average infusion dose starts at 5 mcg/min and can be increased up to 10 or 20 mcg/min, depending on the severity of symptoms. You can use it several times at 15-30-minute intervals.
The nebulizer solution takes 2.5 mg of the active substance 2-3 times per day or 1.25-5 mg every 4-8 hours for quick relief. When you use an aerosol metered-dose inhaler, utilize 180 mcg (normally, 2 puffs) every 4-6 hours. You should not exceed 12 inhalations within 24 hours. When you have been prescribed a powder metered-dose inhaler, use the same dosage or even fewer if it is sufficient to eliminate the symptoms.
The dosage for tablets and syrup is 2-4 mg, taken orally every 6-8 hours. You should not exceed 32 mg/within 24 hours to avoid overdosing.
Precautions and Contraindications
Before starting treatment with Ventolin, make sure you have no allergic reactions to it. You need to discuss the possible benefits and risks of taking Ventolin with your therapist if you suffer or have recently had such health conditions as:
high blood pressure;
congestive heart failure;
heart arrhythmia;
other heart-associated disorders;
diabetes;
different types of seizure disorders, like epilepsy;
overactive thyroid.
There is no clear evidence that this medication can be harmful to pregnant women and their unborn babies. However, if you are pregnant or are planning to get pregnant, discuss it with your doctor.
There is no strict contraindication when using Ventolin in breast-feeding women. No research has clearly supported the ability of Albuterol to penetrate breast milk and do harm to a nursing child. However, the experts recommend not breastfeeding a baby within the course of treatment.
Be careful to keep the Ventolin inhaler out of your kids' reach when they are younger than 4 years of age.
Side Effects
If you are allergic to Ventolin, you may experience such side effects as hives, swelling of the tongue, throat, lips, or face, and breathing difficulties. These allergic reactions need immediate medical aid.
The preparation can rarely cause some other undesirable reactions. Some of them also demand medical care, while others can be minor and disappear in a while. Anyway, you need to be alert if you experience the following:
chest pain;
fast heartbeats;
breathing complications;
wheezing;
irregular heart rate;
recurrent urination;
abnormal thirst;
muscle weakness;
heavy legs;
tremors;
overall excitement or nervousness;
high blood pressure;
severe headache;
ringing ears;
blurry vision;
general confusion;
repeated seizures, etc.
Call your therapist immediately if you have noticed such symptoms after using a Ventolin inhaler or tablets. Even if nothing is serious, any unusual sign of disorder should be attended to carefully and instantly.
price of Ventolin
Available dosage Generic Ventolin forms and strengths

| Name | Manufacturer | Active ingredient | Brands | Dosage forms | Strengths | Price, USD |
| --- | --- | --- | --- | --- | --- | --- |
| Ventolin | Cipla Limited | Albuterol (salbutamol) | Asthalin | Tablet | 2mg | $0.50 |
| Ventolin | Cipla Limited | Albuterol (salbutamol) | Asthalin | Tablet | 4mg | $0.56 |
| Ventolin Inhaler | GlaxoSmithKline Plc | Albuterol (salbutamol) | Ventolin | Tablet | 100mcg | $14.99 |
author: Dr. Marian Davis