Buy Nolvadex (Tamoxifen) Online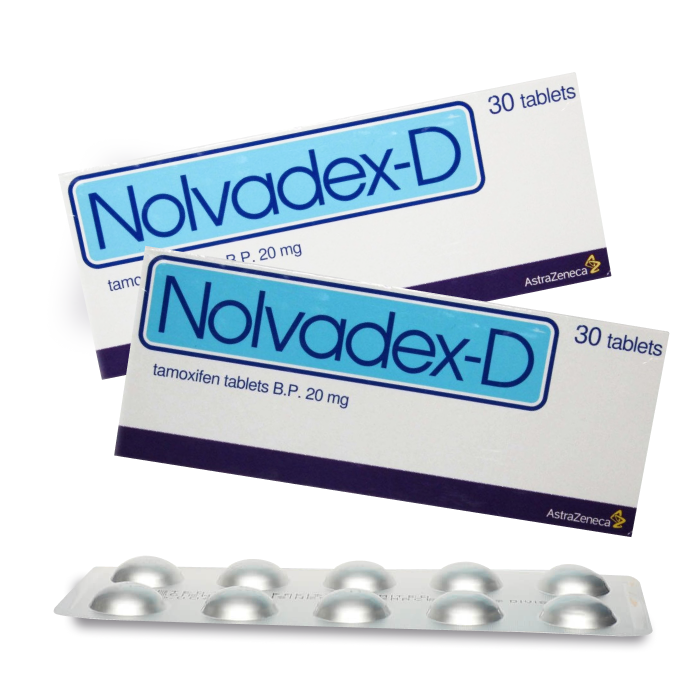 What Is Tamoxifen (Nolvadex)?
Nolvadex is an FDA-approved prescription medicine used in the treatment of the symptoms caused by breast cancer. It is a product of AstraZeneca, and the generic name of the drug is tamoxifen. Tamoxifen belongs to a drug class known as selective-estrogen-drug-modulator (SERM) that block the activity of estrogen (a female sex hormone) in the breast. It attacks the site of estrogen attachment on cancer cells and prevents this hormone from binding to these cells. Tamoxifen is thus effective against tumors that are estrogen receptor-positive i.e. tumors that need estrogen for their growth.
Nolvadex is typically used in the treatment of metastatic breast cancer in women and men who have undergone surgery, chemotherapy, and/or radiation. Moreover, in women who have ductal carcinoma in situ (DCIS) – a kind of breast cancer limited to its site of origin in the milk ducts – tamoxifen helps reduce the risk of development of a more serious kind of breast cancer. Lastly, in women at a high risk of developing breast cancer because of family history, age, or medical history, this drug helps lower the risk of developing the disease.
Patients with breast cancer are recommended to take 20-40 mg of Nolvadex by mouth daily. Doses greater than 20 mg/day are given as divided doses, such as in the morning and at night. Nolvadex is available in both 10 mg and 20 mg variants. Both variants are biconvex, round white tablets with a cameo debossed on one side. The other side of the 10 mg and 20 mg tablets is debossed with NOLVADEX (tamoxifen citrate) 600 and NOLVADEX (tamoxifen citrate) 604 respectively. The 20 mg tablet is sold in boxes containing 30 tablets while the 10 mg tablets are sold in boxes containing 60 tablets.
Nolvadex Side Effects
Side effects of Nolvadex are rarely serious enough to require cessation of treatment. Some of the most common side effects associated with Nolvadex use are:
Menopause-like symptoms, such as hot flashes and vaginal dryness
Muscle aches and cramps
Nausea
Thinning of hair
Irregular menstruation
Fatigue
There are some serious risks associated with Nolvadex use as well. These include:
Changes in vision (such as blurred vision)
Pain in eyes
Mood swings
Swelling of feet (edema)
Easy bruising and bleeding
In some individuals, Nolvadex usage can lead to uterine cancer, cataracts, and other eye disorders, blood clots, and stroke. Although allergic reactions to Nolvadex are rare, they can occur. Symptoms of an allergic reaction include rashes, itching, swelling of the throat, tongue, or face, dizziness, and trouble breathing or swallowing. In case of an allergic reaction or other serious side effects, immediate medical attention should be sought.
Where to Buy Nolvadex?
Nolvadex can be purchased upon prescription from both online and physical pharmacies. Care must be taken to ensure that only the original product is being purchased. It is essential to purchase Nolvadex only from reputable pharmacies. Our online pharmacy obtains medications from the manufacturers and sells them with minimal surcharges.
author: Dr. Marian Davis