Avodart generic
This short medical review features Avodart Generic, an efficient preparation to treat the symptoms of BPH (benign prostatic hyperplasia or enlarged prostate). You will learn how this drug works, how to take it correctly, and what precautions and side effects to keep in mind to avoid complications.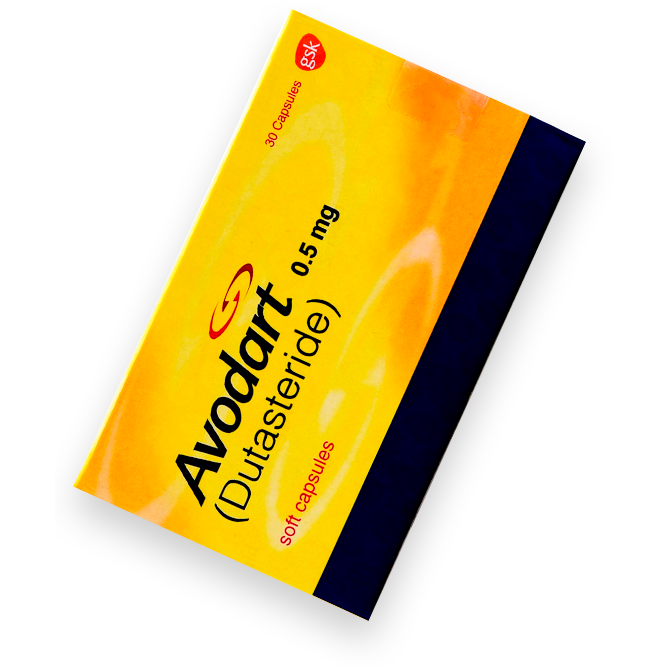 What Is Avodart Generic?
This medical preparation is manufactured by several pharmaceutical companies - Cipla Limited, Intas Pharmaceuticals Ltd., and Knoll Healthcare Pvt. Ltd. Its active ingredient is Dutasteride. It works by blocking the action of the enzyme 5α-reductase type I and II. This enzyme is known as such that converts testosterone to DHT (dihydrotestosterone), the androgen that can cause the growth and dysfunction of the prostate gland.
The preparation is also known under such brand names as Duprost, Veltride, and Dutanol. It is released in the form of tablets or capsules with a dosage of 0.5mg each. One pill costs $1.11, and the pack contains 90 tablets.
The drug is administered to treat such BPH symptoms as decreased urination, difficulty urinating, frequent urination calls at night, and delayed urination started. When the prostate grows, the risk of urinary retention increases. The medication helps the prostate shrink and eliminates such risks.
Avodart is also applied to treating androgenetic alopecia, meaning hormonal male-pattern hair loss. It boosts hair growth and prevents any further signs of alopecia on the scalp.
The positive effect also reduces the need for surgery in patients with BPH. Though, the preparation does not reduce the risk of prostate cancer and cannot prevent it. You need to talk to your therapist to assess all its benefits and drawbacks. The drug is not for use in children or women.
Avodart forms and Price
Available dosage Avodart forms and strengths

| Name | Manufacturer | Active ingredient | Brands | Release form | Dosage | Price per pill, USD | Pack size |
| --- | --- | --- | --- | --- | --- | --- | --- |
| Avodart | Cipla Limited / Intas Pharmaceuticals Ltd. / Knoll Healthcaare Pvt. Ltd. | Dutasteride | Duprost / Veltride / Dutanol | tablet | 0.5mg | $1.11 | 90 |
How to Take Avodart Generic?
You have to follow all the instructions and recommendations of your doctor or pharmacist and take the preparation exactly as they prescribe it. Consume one capsule per day with a glass of water. You can take it with or without food. Never open the capsule, crush it, or chew it because its active ingredient may hurt your mouth or throat and cause pain. So, swallow the capsule as a whole.
It is better to take the medication regularly, at the same time every day. The prostate will shrink slowly, so you may not notice the immediate effect and have to take it for 3 to 6 months to see the improvements. Do not stop taking Avodart because your prostate may start growing again, and it will do it rapidly. If the symptoms persist or worsen, tell your therapist immediately.
Precautions and Contraindications
You should tell your doctor or pharmacist about all possible allergies to medications you have ever experienced. The drug may also include some nonactive ingredients that can cause allergic reactions.
Your therapist needs all your medical history before prescribing this preparation to you. Mention all prescription and nonprescription drugs, herbal products, and nutritional supplements you are taking at the moment. Some of them may interact with this preparation. Do not start, stop, or change this medication's doses without your doctor's approval.
The preparation affects pregnant women and newborn babies badly, so you should not donate blood during your treatment with this drug and at least six months after the end of the treatment course. It is very important because your donated blood may go to a pregnant woman and harm her unborn child.
Women should not use this drug anyway. Pregnant and breast-feeding women should be very careful not to consume this preparation accidentally.
Ensure that you do not overdose Avodart. Overdosing can lead to such serious symptoms as trouble breathing and fainting. If you suspect that you have taken the drug in a bigger dose than prescribed and feel strange or unusual, call your doctor immediately.
You must take medical tests to avoid unpredicted complications while taking this medication. If you miss the dose, take it as soon as you have recollected about it, but not too close to the next intake to avoid overdosing.
Side Effects
The most common side effects while taking Avodart Generic are impotence and low libido. However, they are temporary and will disappear as soon as you stop the medication intake. Other interrelated symptoms may include a decrease in the amount of sperm, an increase in breast size, testicle swelling or hurting, and breast tenderness. If your sexual issues continue after you stop consuming the preparation, or the situation is getting worse, talk to your doctor or pharmacist immediately.
Most men who take this preparation do not experience such side effects at all. Though, other symptoms may rarely appear. Some of them can be rather severe. Serious allergic reactions cause the majority of such symptoms. You need urgent medical aid if you experience the following:
rash;
itching;
swelling of the face, tongue, or throat;
heavy dizziness;
trouble breathing;
chest pain;
high blood pressure, and others.
Even if you do not experience any side effects mentioned above but have noticed something that bothers you while taking Avodart Generic, do not hesitate to call your therapist or pharmacist and talk about your reactions. Sometimes, the doses may need adjustment, or the preparation does not fit your health condition. It is always better to ensure that you are on the safe side.
author: Dr. Marian Davis