Buy generic Zithromax 500mg (azithromycin)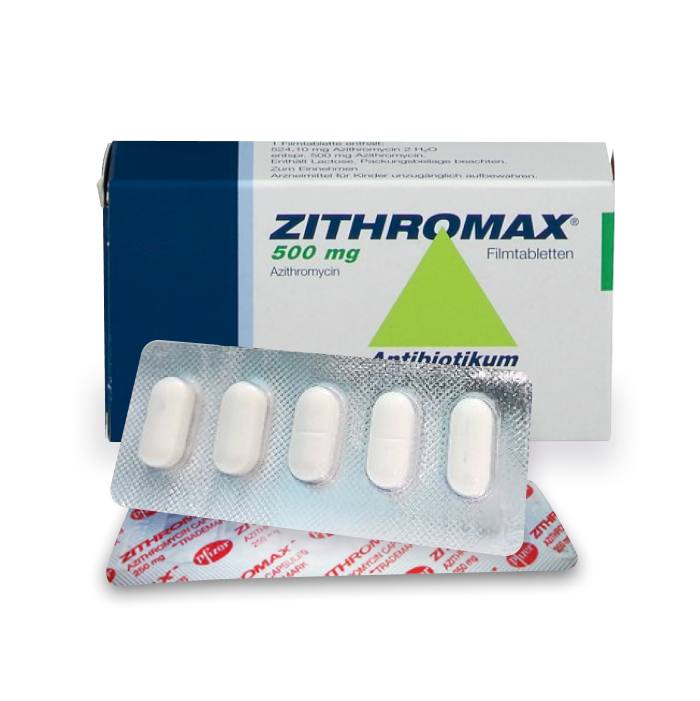 What Is Zithromax / Azithromycin?
Zithromax drug class is macrolide antibiotics. These antibiotics work by inhibiting bacterial growth by interfering with protein synthesis. The active ingredient of Zithromax is azithromycin, a derivative of erythromycin with a slightly modified chemical structure. Azithromycin was discovered by a team of researchers in the pharmaceutical company Pliva in 1980. It is currently produced by Pfizer under the brand name Zithromax.
What is Zithromax Used for?
Zithromax is a broad-spectrum antibiotic that can be used by both adults and children. It is typically prescribed for the treatment of bacterial infections of the respiratory system (such as pneumonia), skin, and ear (such as otitis media). In children, Zithromax is often used to treat chest and ear infections. This drug is also known to be effective against pelvic inflammatory disease (PID), cervicitis and nongonococcal urethritis. However, it should not be used in the treatment of viral diseases, such as common cold and flu. Excessive usage of Zithromax is currently leading to the emergence of antibiotic resistance in some strains of bacteria.
Zithromax Side Effects
Some common side effects associated with Zithromax use are nausea, diarrhea, and abdominal pain. In some patients, fever, swelling, and drying of skin may also occur. Other, rarer side effects of Zithromax include changes in vision or hearing, muscle weakness, and symptoms associated with liver dysfunction (for example, severe abdominal pain, jaundice, and persistent nausea). Immediate medical attention is needed if these symptoms are present.
Although rare, some people may experience an allergic reaction to Zithromax. Symptoms of an allergic reaction include fever, itching, rashes, dizziness, and difficulty in breathing.
Zithromax and COVID
Some studies suggest that, due to the effectiveness of Azithromycin, the active ingredient in Zithromax, in the treatment of respiratory bacterial infections, it could emerge as a possible treatment option for COVID-19. Azithromycin has an excellent safety profile and is shown to be effective against various chronic airway diseases. However, in some of the trials conducted to test the effectiveness of Azithromycin against COVID-19, no significant benefit was seen in the groups using Azithromycin in comparison with the groups taking a placebo. More investigation is required before azithromycin is approved for usage in patients with COVID-19.
Zithromax Generics
There are many generic alternatives to Zithromax available for purchase. Some examples include Zythromax, Zithromycin, Azithromax, and Zmax. The ophthalmic version of Azithromycin is Azasite.
Strengths and compound meds
The brand-name medication comes in two strengths (Zithromax 250 mg and Zithromax 500 mg), while the generic form is available in a 600 mg variant as well. Most familiar to people is the azithromycin Z-Pack that contains medications for a five-day regimen; there are two 250 mg tablets for the first day and one 250 mg tablet for each of the next four days.
Zithromax is also available as injections (100 mL vial containing 500 mg azithromycin), oral suspensions (100 mg/5 mL, 200 mg/5 mL, and 1000 mg/5 mL).
author: Dr. Marian Davis